Wiz Solitaire for iPad
Stylish collection of more than 35 classic games
Hours of fun at your disposal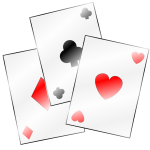 Free version, with ads
Wiz Solitaire
is the ideal game for all your relax moments.
Perfect to while the time away while waiting for your dentist appointment, or to endure those looong presentations at work without falling to sleep. 🙂

Lots of games to choose from
More than 40 types of solitaire are available, including: Agnes Bernauer, Agnes Sorel, Algerian, Australian Patience, Babette, Baker's Dozen, Black Hole, Canfield, Casket, Chinese Solitaire, Crazy Quilt, Cruel, Diplomat, Eagle Wing, Forty Thieves, Free Cell, Gaps, Golf, Grandfather's Clock, Josephine, Klondike, Labyrinth, La Belle Lucie, Monte Carlo, Mount Sunflower, Napoleon's Tomb, Osmosis, Putt Putt, Pyramid, Rouge et Noir, Royal Marriage, Royal Parade, Scorpion, Seahaven, Spider, St Helena, Streets, The Clock, The Fan, Trefoil, TriPeaks, Wasp, Windmill, Yukon
All the features you need
Easy-to-access Undo button for those "Oops, I didn't mean that" moments
Unlimited undo
"Suggestions", in case you're stuck and/or you're learning a new game
Description of each game's rules
Detailed statistics, for those who really need to know how many times they won at Spider
Retina graphics
Work & play
iOS 9 introduced split-view multitasking on newer iPads, which means that you can play your favorite solitaire while keeping an eye on a different application. You can play and check your email at the same time… or you can play and chat on iMessage… This opens up a lot of options, especially on the larger iPad Pro.
(not available in the free version)